We Are Kudu
Our culture is what makes us focused & productive. We are an award winning design firm, creating brands that move your business forward. Woman-owned and operated in Easton, PA, our team combines smart design, creative strategy, and interactive solutions to help you stand out from the herd. Our focus is on mobile-first design–whether mobile for you means an app interface, or an advertisement on the side of a city bus! We have our finger on the pulse of leading digital trends that's filtered through the lens of proven academic theory. This mix, plus leading with empathy is imperative to our success. We understand your needs from your vantage point, making our approach highly collaborative, and our outcomes crystal clear.
The Method
Branding • Brand Strategy • Graphic Design • Website Design • Website Development • Content Creation • Social Media Content • Marketing Strategy • Print Collateral • Digital Marketing
The Objective
Capture Attention • Inspire Action • Drop Knowledge • Delight Users • Track Leads • Measure Data • Enforce Messaging • Elevate Experiences • Target Audiences • Standout Solutions • Culture Shift 

Team
Sarah Clark
Owner & Creative Principal
Sarah Clark is strategy and design. She's worked in Fargo, ND at a tech start-up, Minneapolis, MN at a major branding firm and several agencies in the Lehigh Valley. Diversity in region and clients has helped to define different strategic approaches to each unique business. She's at the perfect point between doing what she loves and what she's good at. As a creative director, she sees the world through image, type, color and texture. As a problem solver, she doesn't see roadblocks. Sarah is currently a part of the West Ward Steering Committee, board member of Third Street Alliance for Women & Children, BW NICE Lehigh Valley, and The Lehigh Valley Chamber of Commerce. She also likes to help out on creative projects like Easton Murals Project.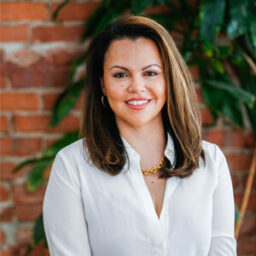 Lorena Bravo
Marketing Coordinator
Lorena Bravo is planning and coordination. Her entrepreneurial background, academic achievements, and profound understanding of social and political dynamics makes her perspective valuable to any on-going communications. As a former small business owner, Lorena brings a wealth of experience in managing and operating businesses, as well as a clear understanding of the challenges faced by small business owners. Additionally, her academic background, particularly her M.A. degree in Political Science from Lehigh University, has equipped her with a unique perspective on the social, cultural, and political forces that shape our world. Lorena is also an active member of several non-profit organizations, including Big Brothers Big Sisters of the Lehigh Valley, the Kress Society with the Allentown Art Museum, and the Literacy Center where she teaches ESL to adult learners. Her diverse skills and experiences make her a natural fit for Kudu Creative's vision and mission.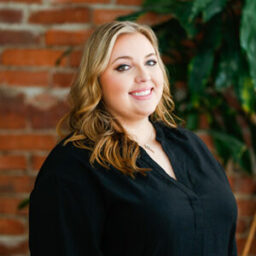 Amanda Wagner
Graphic Designer
Amanda Wagner is print and digital design. With a Bachelor of Arts in Graphic and Interactive Design and a minor in Business Management and Marketing from Moravian University, she has a keen understanding of good design practices and marketing strategy. Her prior experience is primarily in working with non-profits for the arts & culture. As a former in-house designer for ArtsQuest, she has created multiple campaigns and events in unison, a skill that she demonstrates daily here at Kudu. Amanda also spends her time as a high school cheerleading coach at Nazareth Area High School where she is dedicated to making an impact on the youth in our community and loves being a role model and advocate for these aspiring young women. Her unique design style and innovative thinking is an outstanding asset to our team.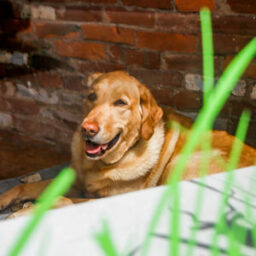 Stella Clark
Employee + Client Satisfaction
Stella Clark is love and joy. The heart of a golden retriever, the brains of a yellow lab. Stella's sunny personality and golden fur brighten up the gloomiest of days. This adorable rescue is more than just an office dog; she's a beloved member of the Kudu family. Whether she's greeting visitors at the door or lounging under someone's desk, her playful energy and loyal nature make her an indispensable part of the team. In her spare time, Stella keeps the lint roller business afloat! We've joked about her owning stock in it, but she's not much of a finance dog. She's more interested in chasing her tail and attending her boss' creative meetings than tracking her portfolio. Stella's boundless enthusiasm and unwavering loyalty, are the embodiment of the values that Kudu Creative holds dear. Happy employees make happy work.